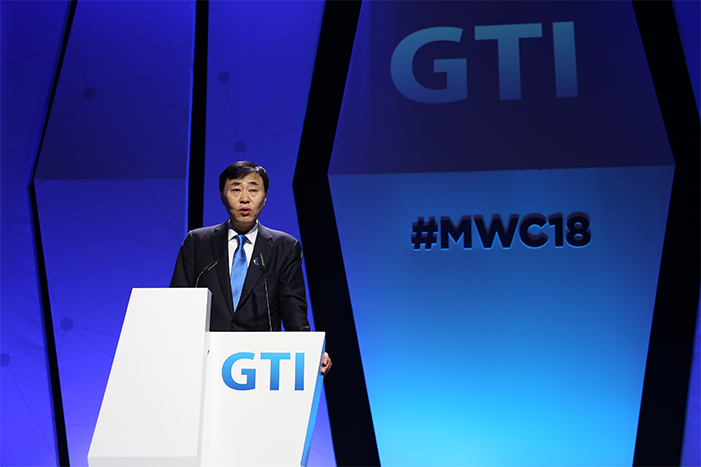 Mr. Shang Bing
Chairman, China Mobile
Mr. Shang Bing delivered the keynote speech titled "Win-win Cooperation to Embrace a New Age of Everything Smartly Connected", He said China Mobile will act along the trend for opportunities with smart connections, actively promote the convergence application of 5G and AI, and further implement the "Big Connectivity Strategy", striving to become the world's leading operator in digital innovation.
• Build premium infrastructure: In 2018, China Mobile plans to increase the TD-LTE subscribers to over 700 million, and promote the number of connectivity through IoT to exceed 320 million.
• Enhance innovative application of technologies. China Mobile will start 5G scale-up trials in 5 cities and 5G application showcases in 12 cities to speed up 5G development. Launch "5G Terminal Forerunner Plan" with industry partners to cultivate the industrial chain in 5G chipset, component and terminals, and to drive the rapid development of 5G devices.
• Accelerate network transformation. Found ORAN Alliance to explore new models of pushing forward wireless network evolution, and construct a wireless network of low cost, much intelligence and wider openness. China Mobile will also actively promote 5G+AI innovation to pioneer 5G smart network for intelligent operation, and to enable the intelligent connectivity and applications for all aspects of life.
• Build collaborative and win-win ecosystem. Under the support of China Mobile 5G Innovation Center, China Mobile encourages the 5G innovative application initiative to provide 5G end-to-end ecosystem for all walks of life.