The 12th GTI (Global TD-LTE Initiative) workshop took place during Feb. 26-27 in Barcelona, Spain, gathering more than 120 industrial leaders and experts from 32 operators and 27 industrial partners and organizations to share latest progress and discuss key issues about TD-LTE commercialization.
This time, aside from the regular plenary, the GTI workshop was reshaped into a topic-oriented structure with joint sessions focusing on LTE-A, Roaming, VoLTE(voice over LTE), 3.5GHz, RCS(rich communication suite), and business models and funding, putting stress on end-to-end subjects and issues. Operators were sharing updates and progress on LTE TDD/FDD convergence, carrier aggregation, and end-to-end requirements to deliver eMBMS (evolved multimedia broadcast multicast service), communicating with industrial partners about VoLTE and RCS technical and business considerations, and addressing key issues regarding 3.5GHz ecosystem and devices, multi antenna CPE, and revenue models and funding for TDD operators. A white paper of Business Models and Funding was also introduced at the workshop.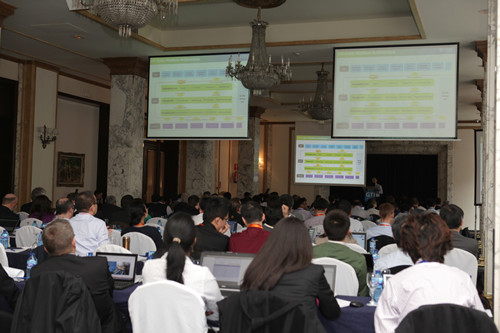 In addition, working groups discussed and jointly drew up work plans for the year of 2015. Expected outputs are as below.
1. Network Working Group
• Input to 3GPP on FDD+TDD Carrier Aggregation requirements/priorities
• Updated white papers of LTE TDD/FDD convergence and TDD Carrier Aggregation
2. Terminal Working Group
• 10+ models of Low cost (no more than $100) MMMB smart phone available
• Updated GTI MMMB Technical White paper
• L+W/G chipset/smart phone available
• Dual SIM smart phone support VoLTE & RCS available
• Updated GTI Dual-SIM Smartphone specification
• TD-LTE Terminal NS-IOT Carrier Aggregation Test System
• TD-LTE terminals with ET available
• Validation Summary of TD-LTE test system in GCF
• TD-LTE Terminal NS-IOT Carrier Aggregation Test Specification
• Multiple Antenna CPE available
• Prototype High Power UE with maximum power exceeding 26dBm available
• Set up SI/WI in 3GPP for TD-LTE high power terminal
• Multiple Antenna CPE req/spec and High power terminal req/spec
3. Spectrum Working Group
• Consulting response to external regulators on TDD relevant spectrum, e.g. China including Taiwan and Hongkong, Korea, Africa, EU
• Deliverable of GTI view on future candidate TDD spectrum for WRC 2015
• Updated spectrum database, spectrum white paper, synchronization white paper, LSA white paper
4. Business and Service Working Group
• Publish Business Modelling & Funding White Paper (in approval process)
• Develop & Share 3 additional vertical models to support TD-LTE only operators in achieving positive cash-flow
• Sponsor Investor Conference in 2015
• Identify 4 new TD-LTE operators seeking funding (to support & present to Investors)
• Develop framework & Identify 5 Solution Partners & Experienced Operators to provide advisory/consultancy services to TD-LTE operators
• Develop guidelines/White Paper to support greenfield TD-LTE operators roaming with Legacy operators. Support at least 1 launched greenfield operator to launch roaming
• Provide Market & Industry updates in key roaming focus areas
• Drive new membership tier within GSMA for new LTE entrants/smaller operators
• Gain 2 new Roaming Industry partners to join GTI. At least 1 targeted Partner presentation at each 2015 Workshop
• Develop presentation content and obtain solution partner support for Smart Home session.
• Provide training session, demonstration & support for using the Joint Innovation Lab and Open Testing System.
• Complete Single Time Application Platform
• Develop/Upload 4 targeted reports and supporting analytics on key B&S focus areas
5. End-to-end Topics
• LTE-A
• 4 chipset vendors launch DL CA product and 20+ DL CA terminal available
• Prototype UL CA terminal available
• VoLTE
• 30+ commercial models of TD-LTE VoLTE terminal
• VoLTE terminal power consumption comparable with 3G
• Commercial launch VoLTE networks
• Evaluation report on new voice codec
• RCS
• 10+ Native Terminal
• APP clients based on both Android and iOS
• Commercially launch RCS service
• Update report on key market and industry
• 3.5GHz
• To see at least 15 more allocations of 3.5Ghz Spectrum globally
• WRC-15 approves global unified allocation of 3.5GHz using TDD for IMT
• Release at least 2 TD-LTE Terminal Devices (Handsets) become commercially available
• Release GTI 8X8 Macro eNB and 4X4 Small Cell products, finish the GTI Trial to demonstrate the competitiveness of broadband 3.5GHz TDD, and facilitate at least 20 more 3.5GHz Networks launch commercially
• To see at least 10 more 3.5Ghz operators and vendors join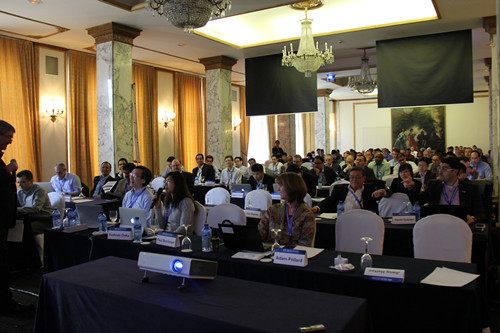 After the workshop, work summary and plan were reported to and approved by the GTI Steering Committee who recognized the great achievements in solving critical issues for the commercialization of TD-LTE and expected the realization of goals set for 2015.
Presentation slides have been uploaded to the GTI website, please click below to download