GTI Awards were presented at the GTI Night 2018 held on Feb 23rd, 2018 in Barcelona, Spain. A great many high-level representatives from global operators, industry partners and organizations attended the event.

In total, 1 operator and 8 industrial partners across chipsets, network infrastructures, components, test systems and verticals won awards on "Innovative Breakthrough in Mobile Technology", "Innovative Mobile Service and Application" and "Market Development" for remarkable contributions made in each area. Besides, 4 individuals were granted "Honorary Award" for their technical or marketing efforts that have brought significant credit to the industry and GTI.

Founded in 2012, the GTI Awards program aims to acknowledge achievements and success of industry players in 4G commercialization and its evolution and 5G development across a wide range of market segments.
Award Category

Winner

Award Introduction

Innovative Breakthrough in Mobile Technology Award

Ericsson

Ericsson 5G NR Radio Dot System is the first 5G small cell solution, and it provides standard compliant 5G indoor deployments with cost effective solutions to add 5G network coverage quickly and easily, and deliveries necessary performance, coverage, and capacity to 5G use cases and supports new industrial applications to ensure required latency and bandwidth requirements.

Huawei

Huawei's 3GPP 5G Pre-commercial System is 5G end-to-end products and solutions including wireless, transport and core network, chipset and CPE, accelerating operators' 5G network deployment and promoting 5G industry maturity to embrace a super connected era.

Keysight

NB-IoT Massive UE emulation test system is the brand new IoT test solution to emulate massive number of NB-IoT devices with complicated scenario setups for the infra vendors, mobile operators, vertical industry players and wireless researchers, significantly improving the efficiency on network performance validation and test.

Nokia

Nokia's AirScale as a Distributed unit (DU) and AirFrame as a Central Unit (CU), making the commercial platforms for 5G ready Cloud RAN based on CU/DU split, which is not simply a baseband unit protocol spit, but also a RAN evolution architecture to match complex network deployment scenarios.


Qualcomm

The Snapdragon 845 Mobile Platform utilizes Qualcomm Technologies' industry leading wireless heterogeneous compute expertise to design a platform for immersive multimedia experiences, serving as an ultimate intelligent mobile platform that will extend the way people see, hear and interact with the world around them.

Qorvo

Qorvo's 5G RF Front End QM19000, the world's first 5G mobile RFFE, is a highly integrated 5G RF front-end (RFFE) module for smartphones and other data-centric mobile devices, outpacing both individual component suppliers and complete front-end providers in reaching the market.

Innovative Mobile Service and Application Award

CloudMinds

& Huawei

The world's first Wireless Real-time Blind Guiding Helmet. The application creatively uses the combination of mobile network technology and AI technology to provide blind people with real-time assistance to independently cope with the surrounding environment.

ZTE

ZTE's QCell + MEC Indoor Distribution And Positioning System including the PicoRRU, the P-Bridge remote convergence unit, the MAU multi-system access unit, the BBU baseband unit, the Multi-access Edge Computing (MEC) server, coupled with the big data analysis system, which well meets the needs of densely-populated indoor distribution applications and operators and commercial enterprises in business and operation innovation.

Market Development Award

Bharti Airtel

Bharti Airtel collaborates with leading network solution provider to pioneer new technology in India and lead the industry in evolution of TD-LTE towards 5G with India's 1st Massive MIMO and Massive carrier aggregation (TDD+TDD+FDD), allowing Airtel to serving unprecedented data demand while making the network ready for future migration to 5G services.

ZTE

ZTE made continued effort in commercializing 5G in 2017, establishing partnerships with 20+ high-end operators and completing a series of pre-commercial 5G tests and trials. By the end of 2017, ZTE's Pre5G solutions are deployed in more than 110 networks in over 60 countries.

Honorary Award

Hong Qiu

(Qualcomm)

Ms. Hong Qiu, as the leader of Open Platform Project, played an instrumental role to get the team jointly study IoT platform technology actively, accomplished the whitepaper of IoT service layer and architecture for mobile operators and pointed out the trend of IoT services layer technology for future.

I-Kang Fu

(MediaTek)

Mr. I-Kang Fu has been leading the Sub 6GHz 5G Project and playing a key role in delivering a series of whitepapers on 5G RAN, core network and device, significantly promoting the maturity of E2E industry.

Lawrence Tao

(Qorvo)

As the leader of 5G and IoT RFFE task, Mr. Lawrence Tao actively promoted the R&D, industrialization and commercialization of 5G and IoT RF components, and made major contribution to the 'GTI 5G Device RF Component Research Report'.

Tomohiko Furutani

(SoftBank)

As the coordinator of the Cloud Robot Program, Mr. Tomohiko Furutani has made been taking lead in promoting the development of cloud robotics by researching and delivering whitepaper and prototype in a timely manner, contributing as a remarkable breakthrough for the GTI 2.0.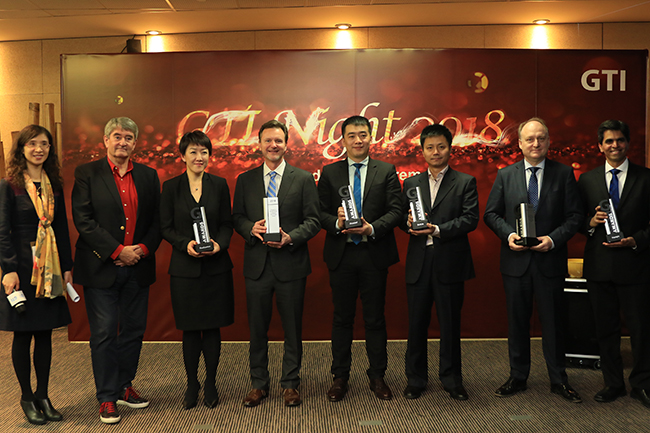 x