GTI Asia Conference, hosted by Global TD-LTE Initiative and China Mobile, supported by GSMA will take place on the afternoon of June 26, 2013 during Mobile Asia Expo 2013 in Shanghai, China.
The Conference is focused on promoting the convergence of LTE TDD and FDD and accelerating TD-LTE deployment in global markets, especially the Asia Pacific region. With the proliferation of commercial TD-LTE networks in major markets, TD-LTE operators are keen to have low cost multi-mode multi-band devices and diversified services in LTE era. This Conference will bring together government leaders, Chairmen and CEOs of pioneering operators and industry partners to address these important topics. Top leaders across ecosystem will shape the future of the industry at the critical juncture of large-scale commercialization of TD-LTE. Government leaders will also attend and give the speech about China TD-LTE plan and regulatory policies.
Registration Process:
GTI Asia Conference is part of GSMA Conference at Mobile Asia Expo 2013, and are only open to MAE pass holders. As a partner of MAE, GTI will provide conference attendees with free MAE Conference Pass. Your application will be responded within two weeks.
Step 1:
Please CLICK HERE to indicate your interest in GTI Asia Conference. Email address is the only information to identify the applicants.
Step 2:
GTI Secretariat will review the applications and GSMA will send invitation to approved registers. You will get your pass after completing the registration in GSMA system. This approval will depend on information you fill in step 1.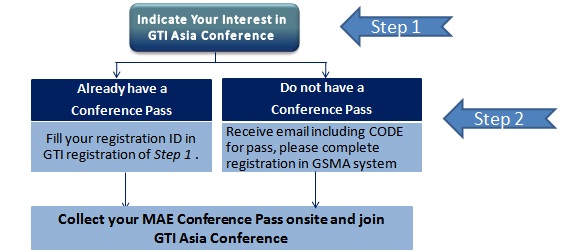 Preliminary Agenda
Session
Sub-Session
Time
Topic
Company
Speaker
Welcome Note
14:30–14:35
GTI Welcome Speech
Chairman, GTI
Craig Ehrlich
Opening Speech
14:35–15:15
Accelerating Global Development of TD-LTE
Vice Minister, MIIT of China
Shang Bing
Opening Speech
14:35–15:15
Views on Global TDD Spectrum Planning and Allocation
Deputy Secretary-General, ITU
Zhao Houlin
Opening Speech
14:35–15:15
China Mobile's TD-LTE Deployment Progress
Chairman, China Mobile

Xi Guohua

Opening Speech
14:35–15:15
Vision of Converged LTE TDD/FDD Development
President & CEO, Telenor Group, Vice Chairman, GSMA

Jon Fredrik Baksaas

Ceremony
15:15-16:00
Release of China Mobile's VoLTE White Paper And GTI VoLTE Development Initiative

Li Yue, President, China Mobile; Anne Bouverot, Director General, GSMA; Craig Ehrlich, Chairman, GTI

Keynote Speech
16:00-17:00
Views on TD-LTE Eco-System Progress and Development Strategy
General Manager, CATR MIIT of China
Cao Shumin
Keynote Speech
16:00-17:00
AXGP/TD-LTE Commercial Progress and Strategy

Special Advisor to CEO, Softbank Mobile

Ted Matsumoto
Keynote Speech
16:00-17:00
Converged LTE TDD/FDD Development Plan and Strategy
Group CTO, SingTel
Tay Soo Meng
Keynote Speech
16:00-17:00

Bharti Airtel's TD-LTE Deployment and Application Progress

Chief of Strategy, Bharti Airtel

Shyam Mardikar







17:00-17:30

Release of Wireless City Application Platform by China Mobile


Executive Vice President, China Mobile


Li Zhengmao