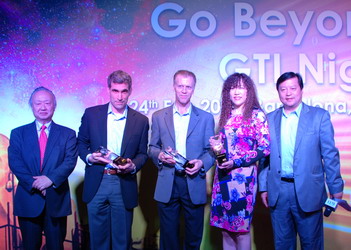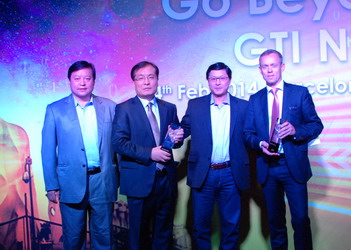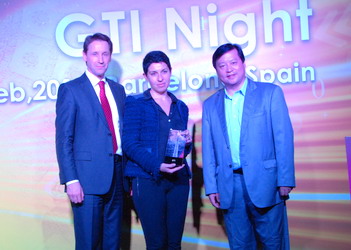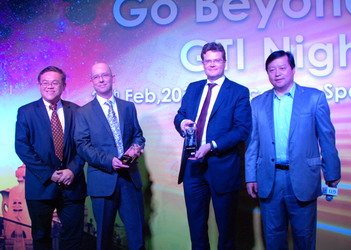 GTI Awards were presented at the GTI Night 2014 held on 24th Feb during the Mobile World Congress (MWC) in Barcelona. More than 170 high-level representatives from over 30 global operators, 40 industry partners and 10 organizations attended the event.
Essentially GTI Awards program aims to acknowledge achievements and success of industry players in TD-LTE ecosystem across a wide range of market segments. The Awards intends to recognize innovation in LTE industry and encourage the development of innovative products that address challenges faced by GTI operators.
This year, a total of 12 industry partners were granted the awards covering technology, products and market development for their outstanding contributions in promoting TD-LTE and LTE TDD/FDD development.
Innovation Award

LTE TDD/FDD Converged Solution

Huawei

Ericsson

Multi-Mode Multi-Band Product

Qualcomm

Skyworks

Marvell Semiconductor Inc.

TD-LTE Smartphone

Sony

Samsung

Test System

Rohde & Schwarz

Anite Telecoms Ltd

Innovative Solution

NSN

ZTE

Market Development Award

Market Development Award

Alcatel-Lucent

Special Contributor

ZTE

Special Contributor

Huawei
In addition, more than 20 TD-LTE multi-mode multi-band terminals were also exhibited in the event, especially including the world's first 5 mode 13 band global roaming smart phone developed by GTI and its industry partners. The maturation of TD-LTE multi-mode multi-band devices will speed up the global deployment of TD-LTE.